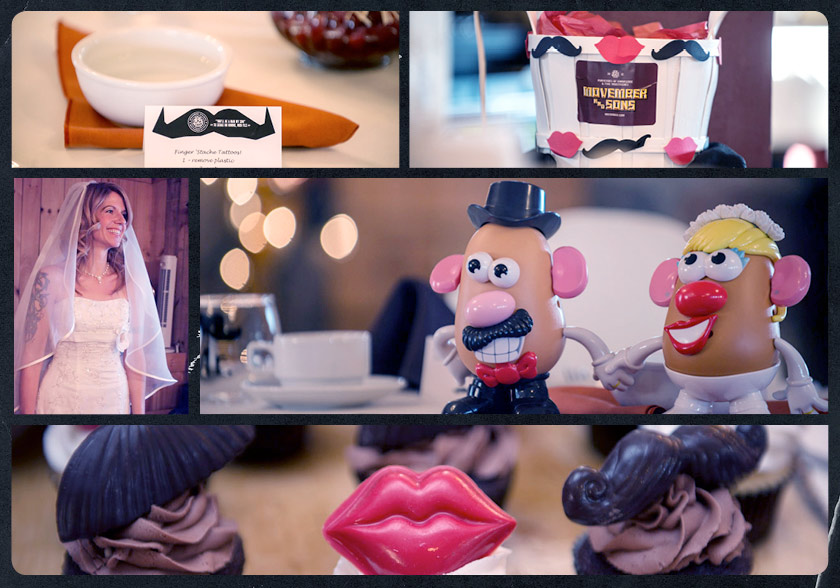 Mo Sista Tamara Marshall (now Mrs. Pyke) tied the knot with her fave Mo Bro over the weekend. Not only did this lady champion the Mo but she fundraised her way through the reception. Mo Sista Tamara and Mo Bro Craik walked down the aisle in a Movember style evening, complete with moustaches, donations, games and Mo decorations! The newlyweds have been participating in Movember since it first debuted in Canada, as donors, participants, team mates and now as husband and wife!
Planning a mid-Movember wedding, Tamara and Craik knew that many of their guests would be in the middle of growing and grooming their moustaches, so they decided not only to embrace it, but to encourage it! The father of one of Tamara's Bridesmaids had been directly affected by cancer, and Tamara and Craik are both passionate about the cause, so the decision of the wedding theme seemed more than easy.
So then began the planning and decorating for their big day! "Rather than have wedding favours for our guests; you know, something with our name on it that people don't really need, we're donating $5 per guest to the Movember campaign on their behalf," said Tamara Pyke, the lovely bride. "We're also having the "make the bride and groom kiss" game be donation oriented too and our cupcakes will have chocolate fondant Mos. Basically, anything we can come up with that can have a moustache on it, we're doing."
Leave the newly weds some words of encouragement or a wedding present on their
Mo Space
!