When a colleague and friend of mine reached out from Movember asking if I'd be interested in being a part of a Father's Day campaign they were running, 'Dadvice,' I knew I couldn't pass up the opportunity. I welcomed the chance to share thoughts on what "Dadvice" meant to me and reminisce on some of my fondest memories with my own father, both those from my time growing up as a kid in small town Saskatchewan to now raising my own children. Like many others, the experiences I shared with my father have groomed me into becoming the man I am today; helping me to guide my own children through life in the best and most rewarding ways I know. It is especially special to me given my dad, Maurice Simoneau (i.e. Moe), passed away almost three years ago. Sharing some of the stories and memories he left me with gives a great sense of purpose and reflection on his legacy for our family.

For me, three of my dad's most memorable quotes include:

1) "Hard work pays off",

2) "Treat everyone with respect and kindness, good things will come to you as a result", and

3) "Stay in school and focus on getting the most out of all education" (in hindsight, I believe I adhered to this third quote quite well, but probably took the scenic route and didn't align to my dad's perspective in terms of what he had in mind).

It has become second nature for me to share these quotes with my own four children, and I likely didn't give as much credit to Moe as I should have in terms of the impact these words have had on me. There were some other gems I can reflect on and remember as well, but more appropriate for sharing with close friends or family around the campfire or while in the boat fishing – which, by the way, was one of Moe's passions and something he enjoyed experiencing with me and with my other siblings very much. Specifically, my dad and older brother, Darcy - who I also looked up to as strong mentor, someone who's groomed my upbringing and how I now move through the day-to-day - would routinely fish together, embarking on many exciting fishing trips.

In fact, as I prepare for a fishing trip now with my two oldest boys and my brother, it is impossible not to think of all the great times we had on the water with dad – even when he picked some of the fishing spots where it became clear, patience was not a virtue I possessed easily.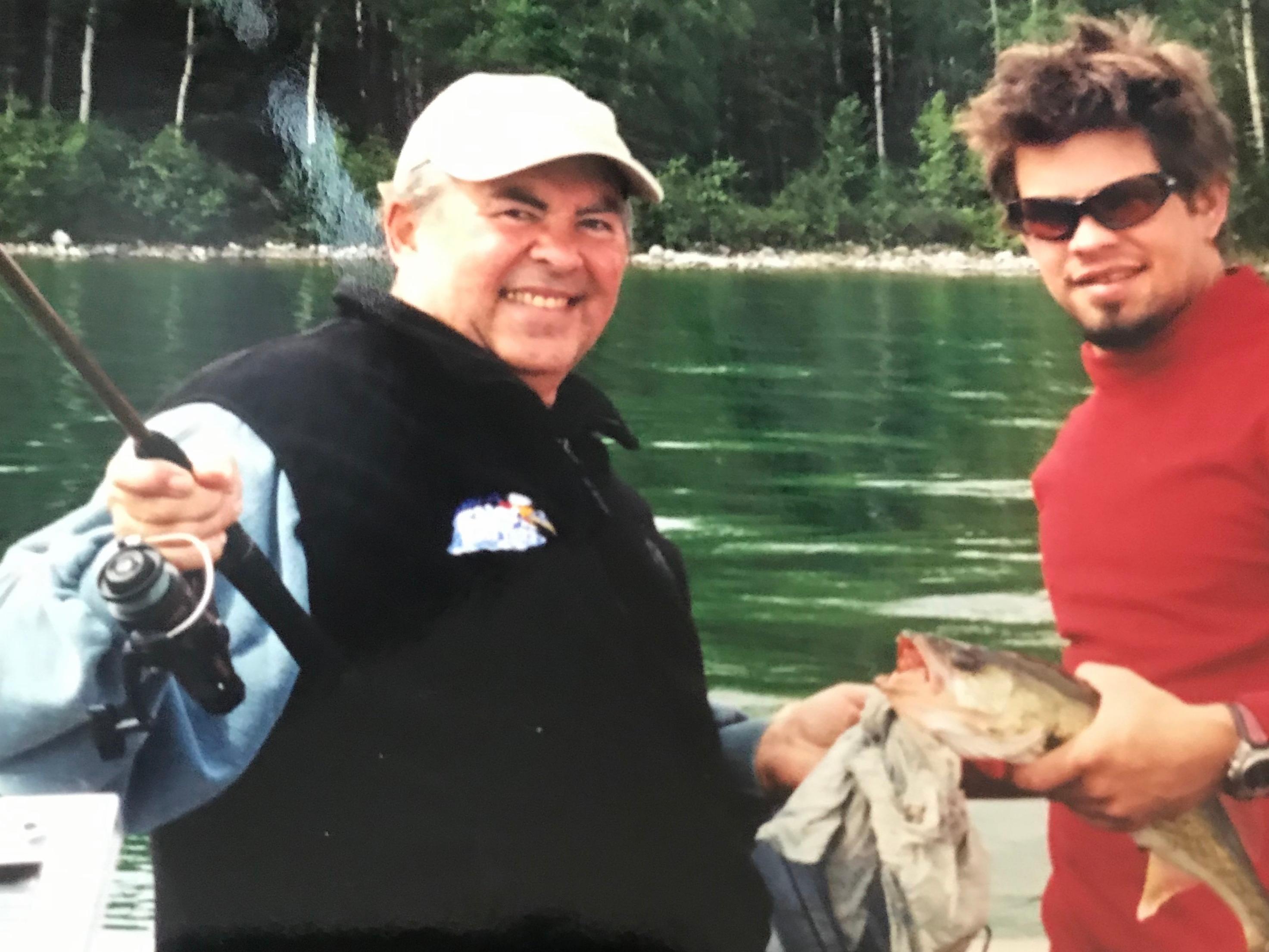 Dad enjoyed fishing, hunting, camping and all things outdoors. During my youth, he served as my coach in both sport and in everyday life. In hindsight, the focus he put into the activities we did together, and the coaching he provided, was one of the ways he ensured a healthy balance between the stressors of work and his personal mental health.

If there was a passion that Moe had aside from family and fishing, it was the Montreal Canadiens. He was one of the biggest Habs fans and it rubbed-off on all those close to him. For his family, maybe it was the result of tactical brainwashing, but we loved the Habs and we loved his love for the team, and because of this we always had that special bond with our dad. For others, Moe's love for the Habs drove them crazy – but Moe would love the friendly banter back and forth with those opposed. I will always remember a trip we took to Montreal in 2010 to see the Canadiens in the second round of the playoffs vs. the Penguins (which they won in 7, by the way). It was such a memorable experience; one I was able to share with my father-in-law as well, whom I am proud to have as another mentor and very close friend.

As Moe grew older and retired, he continued to prioritize the routines allowing him to stay mentally and physically healthy for as long as he could. Moe was also a very faith-based person and, closer to his passing, this strong faith started to trump the more physically demanding activities, and served to replace those things he was not able to do in an effort to stay well for those who loved him and for who he loved greatly.

All of the attributes I've reflected on while writing this about my father have certainly resonated with me and brought back not only amazing memories, but reminded me that his life coaching and role modelling has helped me become the person I am. Everyone has imperfections or traits that perhaps we are not always proud of and need to work on. This is what makes us unique as individuals – diversity in people is amazing!

I am very thankful to have had Moe in my life for so long and I will continue to apply what he told and taught me as I raise my own children. There will be difficulties, successes and failures, hard lessons and inspiring moments – I believe the important lessons our fathers pass along to us as men trudging through life, serves all of us in so many important ways. We should be - and are - always grateful for all they have done for us, helping us navigate through this journey we call life. For myself, while I feel I may never fill my dad's shoes, I know I will never stop trying. I am determined to pass along this same sense of determination, love and unwavering support to my own family, much as he passed the same on to me.

Thanks Moe, love you buddy.