2nd Annual Beer-A-Thon
Inner City Brewing Company, 820 11 Avenue Southwest, Calgary, AB T2R 0E5
Event Details
*NO DONATION REQUIRED TO ATTEND EVENT *
I am pleased to invite you to the 2nd Annual "Beer-A-Thon", which was created to unite beer drinking with the purpose of raising funds for the "Movember" Foundation and in support of the "Movember Marathon Team" where a group of 30 "Movember" runners from across the globe will be running the NYC Marathon on November 3rd, 2019, in raising awareness and donations on behalf of "Movember" (hence the reason I am starting the Movember campaign early) This will be my first marathon, and you can bet I am training hard for it, and would really appreciate your support being behind me on race day.
This year's event will be held at "Inner City Brewing", (https://www.innercitybrewing.ca/) which is located at 820 11th Ave SW, with the event going for the entire day, starting at 11AM and ending at closing (approximately 10PM). The intent is to be able to "come when you want" even if you can only make time for a few minutes and one beer, I would love to see you in attendance (I will be there all day) even if it has been awhile since we have sen each other. If you are on the invite list, I'd sincerely love to have you here.
Movember supports Men's Health, including Men's mental health, which is my primary motivation for uniting with the "Movember" charity after being diagnosed with a chronic anxiety disorder, which triggered a hair loss condition, alopecia. More info about my story is at the link below: https://ca.movember.com/mospace/13813574
The pertinent details of the event are as follows:
-There is no donation required to attend the event. Inner City Brewing has generously offered to donate $1 for each pint sold during the event (on 3 select taps - which will be communicated on the day of the event.... you are contributing by simply attending and having a beer!). There will even be a small batch of a Movember/New York City themed beer, made exclusively for the event!
-There will be a silent auction at Inner City Brewing with 100% of proceeds going to Movember. A few of the generous sponsors that have donated to the event include:
1. Crystal Ridge Golf Club (http://www.crystalridgegolf.com/)
2. The Calgary Stampeders (https://www.stampeders.com/tickets/)
3. Blondies Cabaret (https://www.blondiescabaret.com/)
4. The Okotoks Dawgs (https://dawgsbaseball.ca/tickets/)
5. Studio Bell (https://www.studiobell.ca/)
6. Stronghold Climbing Center (http://www.calgaryclimbing.com/locations/stronghold/)
7. Country Hills Golf Club (http://www.countryhills.ab.ca/)
8. The Calgary Military Museums (https://themilitarymuseums.ca/)
9. Floating Stone Design (http://www.floatingstonedesign.com/steve-rasko)
10. Golden Lion Muay Thai Kickboxing Tournament (https://jemmjoules.ticketleap.com/mtk/)
11. GlobalFest Calgary (https://globalfest.ca/tickets/)
12. Calgary Lawn Bowling Club (https://calgarylawnbowlingclub.ca/)
13. Southland Yard (http://southlandyard.com/)
14. Dr. Robert Burke w/ Calgary Vision Centre (https://calgaryvisioncentre.com/)
15. The Calgary Winter Club (https://www.calgarywinterclub.com/Home.aspx)
16. Butterfield Acres (https://www.butterfieldacres.com/)
17. Bragg Creek Paintball (https://www.thebraggcreekpaintball.com/)
18. Calgary Marathon (https://www.calgarymarathon.com/)
19. Queen of Bud (https://queenofbud.ca/)
20. Sports Experts/Intersport
http://northhillcentre.com/intersport/
-To combine running and beer, I am organizing a half marathon (21km) and a 10km before the start of the event. If you are interested in participating in the run, I ask that you provide a donation of any denomination of your choice. The half marathon will start at approximately 9AM at Brewsters in Crowfoot, which will join up with the 10km, starting at approximately 10AM at Angel's cafe in Edworthy Park. The entire map of the race route is the bottom right hand picture of the event photo. If you are interested in running, please send me a message and will make sure we account for everyone interested in participating.
- If you are interested in donating beyond these options, you can contribute directly to my Movember link (below): https://ca.movember.com/mospace/13813574
-If you would prefer to donate in cash, there will be a cash jar on the day of the event, and you even get to rattle a cowbell when you make a donation!
Other logistical items are below:
-This event is open to the public - please feel free to bring anyone that may be interested in having a beer and socializing in a friendly environment. Would be awesome to see you fill out an entire table of friends!
-Inner City Brewing is child friendly - please feel free to bring them... my own kin, Annacey, will be in attendance... that should be reason enough to pop by
-Inner City Brewing does not have a menu (besides light snacks), however, we will either have a food truck on site periodically throughout the event, or menus from nearby restaurants available to order from
-Will have some kind of special "non-alcoholic" beverage option for kids, non-drinkers, and designated drivers - to be determined
-I believe in reciprocity, and part of events such as this are just as much about support the individual and their efforts and ties to a specific cause (in this case me) as it is supporting the cause. I'll be bringing a budget for donations from myself, set aside for reciprocity - if you are raising funds for a cause that means a lot to you - let me know on the event day - and I'll be happy to support you on your journey.
-Come up with your best "1 eyebrow jokes"... for a mere $10 you can say it to my face and I wont even come up with a retort... I'll give a prize depending on how much money this donation stream raises for the best insult
---
Donate
Total amount this event has raised:
$0
About the event organizer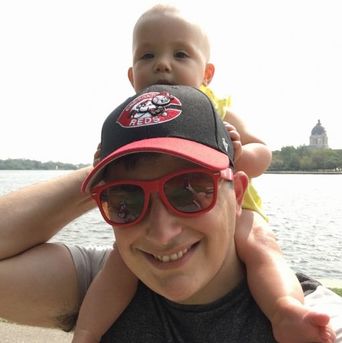 Amount raised
$10,285