"I've suffered with mental illness, mainly depression, for most of my adult life. I have never been shy to share my story. I got to a point where I knew I wasn't doing everything I could for myself mentally and knew I had to start making decisions for myself and for my mental health. When I bought my first motorcycle in 2015 (a cool 1977 Honda CB550 café racer), my intention was to not only get out on the road and enjoy the freedom that a motorcycle brings, but to also attempt to connect with other riders in the community and hopefully build some new connections in a time where I felt pretty lonely. I learned about the Distinguished Gentleman's Ride shortly after hanging out at a few local motorcycle meetups, and I knew right away that this was something I wanted to be a part of. I had been participating in Movember for a few years at that point, and I knew that the ride would be a way to show my appreciation for both Movember and motorcycles, while also showing off my unique "dapper" style sense - if you've seen my looks over the past few years, you'll know what I mean ;)

After that first ride in 2015, I knew this was something that I wanted to get behind full force. I was fortunate enough to get close to our Toronto Ride host Paul Dutra through that first DGR and other local motorcycle events, and we've been pretty close friends ever since. I've also been lucky enough to help organize and be a ride leader over the last few years and am now using my volunteer experience with Movember to act as a liaison between the charity and the DGR, speaking at the rides since 2017 and reminding the participants of the importance of men's health, especially mental health. We're so lucky and proud that our Toronto ride has been hugely successful over the last few years, drawing hundreds of riders and raising hundreds of thousands of dollars for Movember.

Beyond the incredible success of the ride every year, my greatest achievements have been through the conversations I have had with fellow riders, some struggling with their own mental health and reaching out to me because of how open and candid I am about my own history. Realizing that my story and my passion for both motorcycles and Movember can affect others in a positive way and knowing that I can directly affect others and to help them in their mental health struggles through this event is beyond rewarding and has given me a purpose in life I wasn't sure I was ever going to find.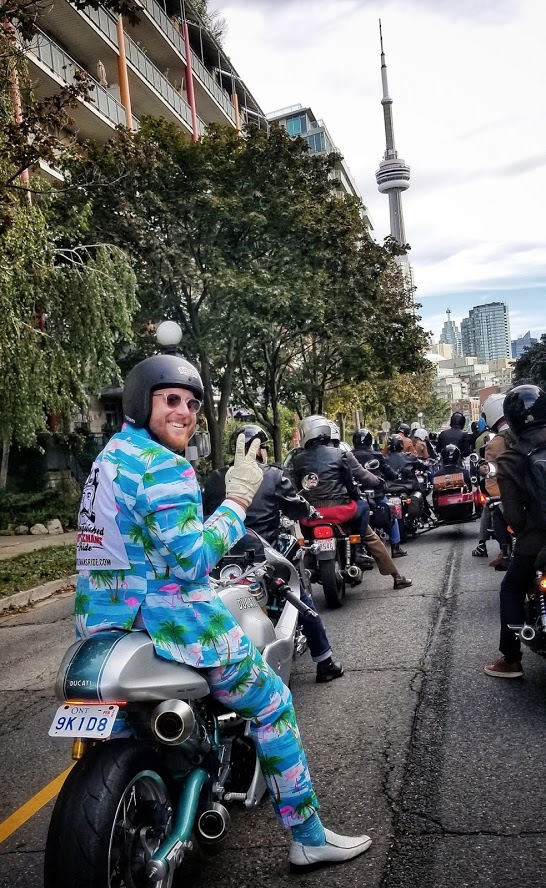 I don't tend to use clichés much, because I am aware of how easy they are to cause instant cringe for the reader. But those who experience mental illness know that sometimes there are things that occur in their life that they can honestly say contributed to "saving" them from a rough period. I can honestly say that, in part, "motorcycles have saved my life", because of what they have given me over the years. The connections I have made with some incredible folks (you know who you are), the positive vibes between riders and the community, and the incredible success of the Distinguished Gentleman's Ride and my contribution to it has significantly improved my overall mental health- and for that I am forever grateful."

- Adam Sanzo (Toronto)

You can find more information on the Distinguished Gentleman's Ride here