The moustache – our hairy ribbon for men's health – has not only cropped up on the faces of Mo Bros throughout the month, but has graced the faces of buildings, helicopters, ferris wheels, hot dog carts, and likely anything else you could name under the sun. Supporters in countries across the globe have helped bring our men's health message to even wider audiences through public activations, epic Move events, creative signage, celebrity endorsements, street art, and so much more. Check out all the ways that we've brought the Movember cause into greater awareness below.
Mo's on the Go
Planes, trains, automobiles, and maybe a hotdog cart for good measure: in cities all over the world this month, you could hardly get from Point A to Point B without seeing a glorious moustache slapped across vehicles on land, water, and sky.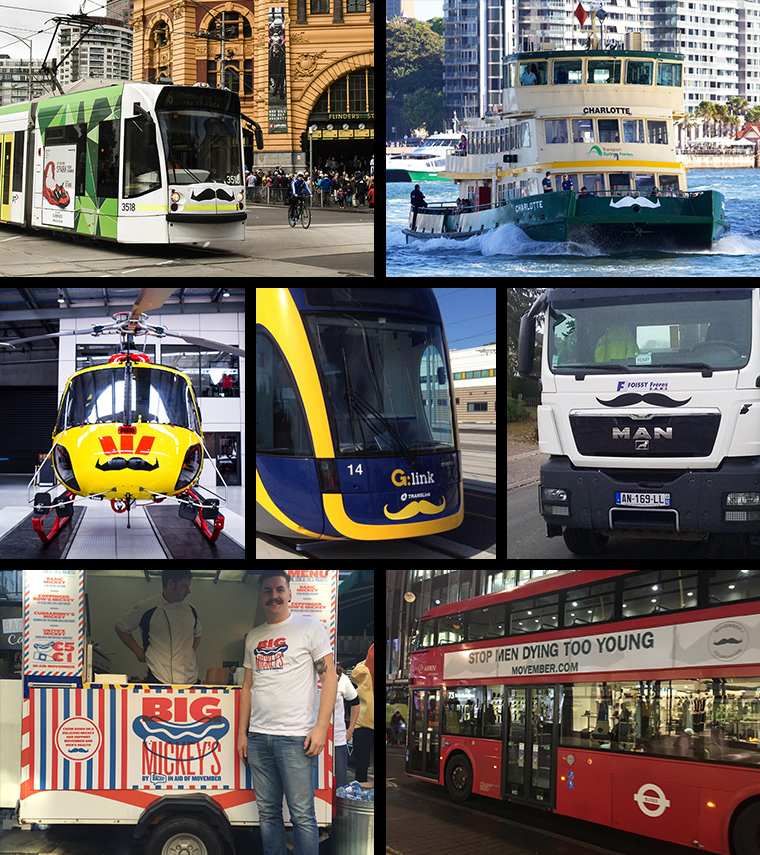 Australia – Yarra Trams.
Australia – Sydney Ferries.
Australia – Westpac Chopper.
Australia – Gold Coast Trams.
France – Moustache "MAN" garbage truck.
Ireland – We opened a pop-up sausage stall, Big Mickeys, serving suitably large 100% Irish sausage.
UK – London's double-decker buses were even more iconic than usual this Movember.
Epic Moves for Men's Health
From famous athletes to everyday Mo's on the Move, people showed up in droves to accomplish some major physical feats this month.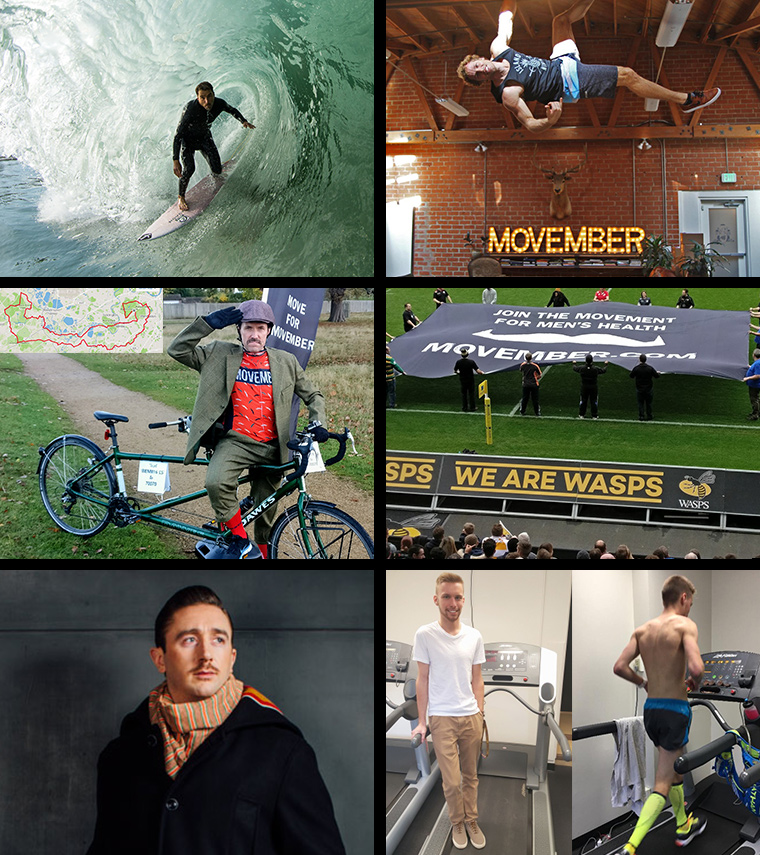 USA – Professional Surfer "Prostate Nate" Nate Yeomans catches some San Clemente waves and joins the first ever "Morning of the Mo" costumed surf celebration in the United States.
USA – "American Ninja Warrior" contestant Grant McCartney couldn't contain himself when he reached our offices in Culver City, California.
UK – Ben Miller completed a journey of 100km in the shape of a moustache, alone on a tandem bicycle. The empty seat at the back of the tandem symbolises the fact that too many men die young. Both his grandfather and father died from prostate cancer, so he wanted to do something to raise awareness for the issues affecting men.
UK – The rugby takeover weekend continued with Wasps vs Newcastle at the Ricoh stadium. Over £1,000 was raised through a Mo-target activation and major stars James Haskell and David Kurk spoke on pitch at half time about this year's campaign.
Ireland – Irish Hockey Olympian David Fitzgerald participated in a stylized fashion shoot featuring Irish Olympians and Paralympians, picked up by several broadsheets.
Canada – Mo Bro Tyeren Deacon accomplished the incredible feat of running on a treadmill for a full 24 hours, fueled by the support of fans and viewers tuning in to his live stream.
USA – 14 runners came to represent Movember in the famous New York City Marathon, with 6 runners even finishing the 42 KM course in under 4 hours.
Distinguished Gentleman's Ride
On one day every year, over 500 cities around the world are abuzz with thousands of finely dressed gentlefolk upon their classic and vintage motorcycles, riding together in their support for men's health. Movember is proud to be the official charity partner of the Distinguished Gentleman's Ride—a match made in heaven.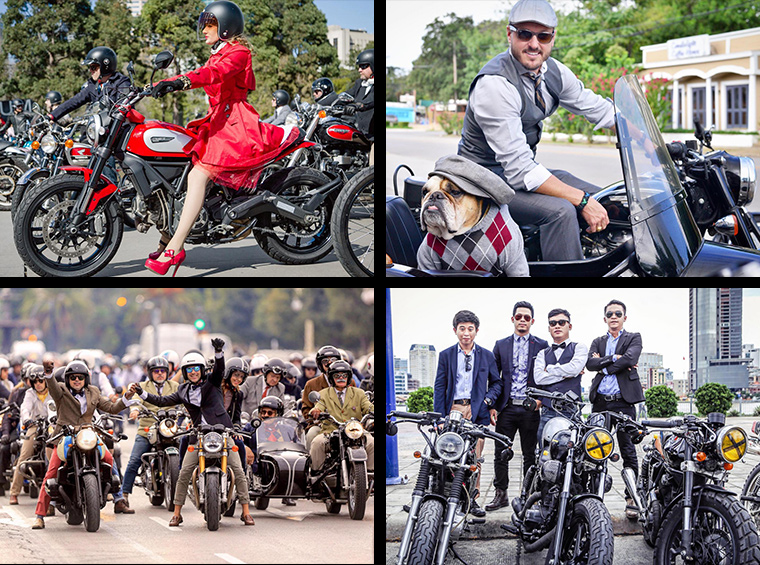 Melbourne
San Antonio – Rider Pat Reily made sure his traveling companion Bubba was just as stylish for the ride.
Valencia (photo credit Arway Tebrand)
Vietnam (photo credit An Cao)
Mo's in the Wild
Mo's have been sprouting up in public street art, on the façades of buildings, and in other public places from Times Square in New York to ferris wheels in Australia and everywhere in between.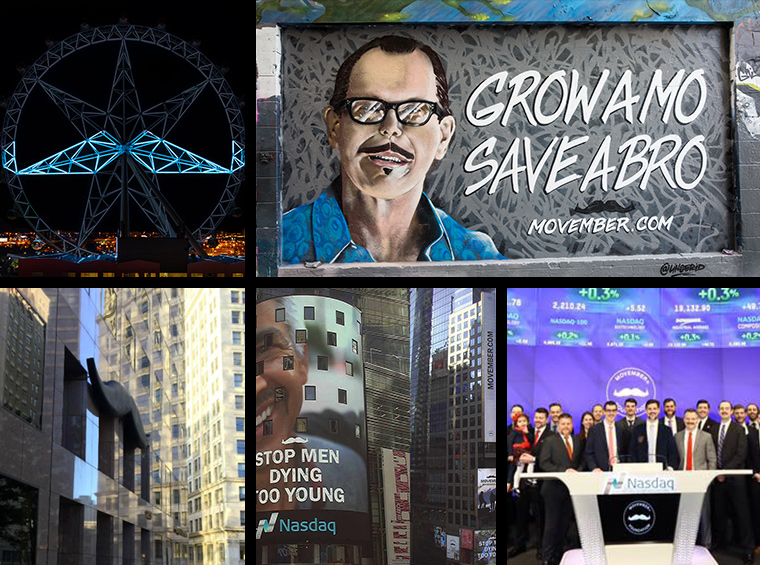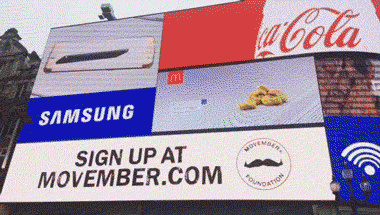 Australia – The Melbourne Star ferris wheel lights up with an iconic Mo.
Australia – To launch the hairy season, we held our first official shave down of the season in Melbourne's iconic Hosier Lane, shaving down INXS rockstar Kirk Pengilly in front of an incredible graffiti mural painted by street artist Ling ID.
USA – Manufacturing giant Georgia-Pacific has placed a giant moustache over the entryway of their Atlanta, Georgia headquarters building.
USA – Our men's health message is being beamed over Times Square in NYC, one of the most heavily trafficked tourist areas in the nation.
USA – On November 25th, Movember was the featured charity selected to ring the NASDAQ closing bell, concluding a day of stock market trading.
UK – Movember calls to action are beamed across London's Picadilly Circus.
Brushes with Fame
We salute the famous faces who have helped spread the word, tweeted, instagrammed, and at times sacrificed their upper lips all for the greater good.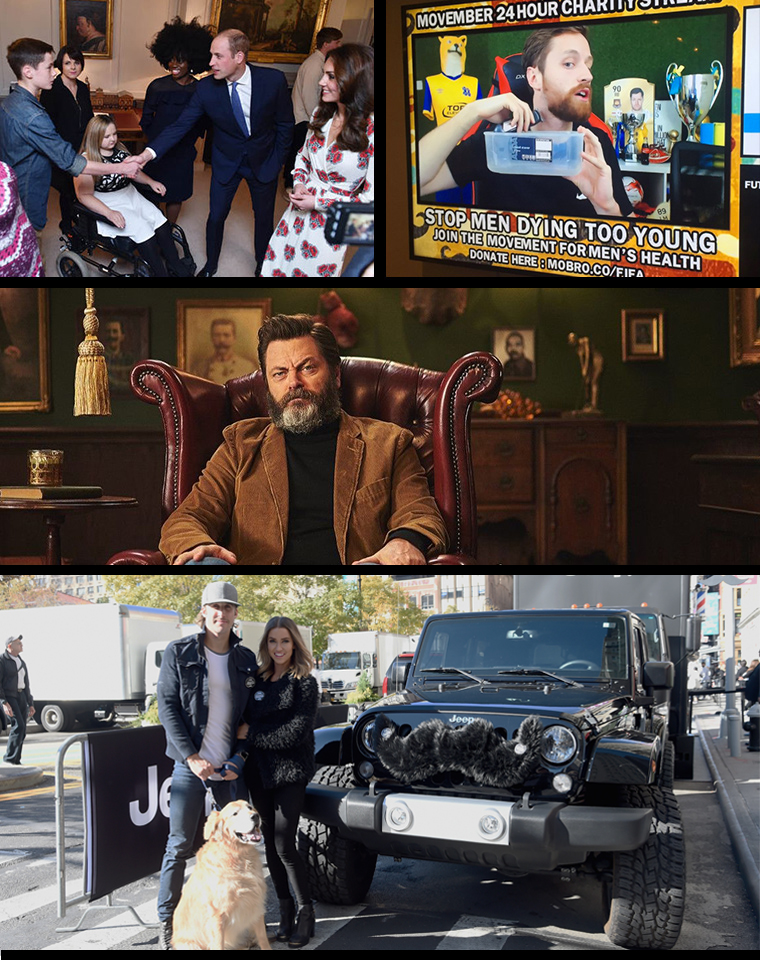 UK – 13-year-old Will defied his Asperger's Syndrome to raise over £12,500 for Movember through his "MiniMoBros" campaign which encouraged young people to take a photo with a fake moustache. He was shortlisted for Radio One's Teen Heroes Awards and invited to meet the Duke and Duchess of Cambridge.
Canada – With partner EA Sports, Spencer FC played Fifa for 24 hours straight, live streamed it on YouTube, and drove traffic to his Mo Space, helping raise over $30,000 with this first ever 24-hour Men's Health Charity Stream.
USA – Nick Offerman has returned as an official Mo Ambassador and Mo Mentor, introducing the Esquire Network's "Stache Bash" – a marathon of TV and movies featuring iconic moustaches, from November 7-13.
USA – "Bachelorette" stars Shawn Booth and Kaitlyn Bristowe strike a pose next to their Jeep, decked out with its very own JeepStache, made possible through our partnership with the company.
USA – Mo Sista and supermodel Cindy Crawford returned in 2016 with an Esquire Network TV spot featuring a campy '80s-inspired workout (for what Move challenge is complete without one?)